LED T8 Direct Replacement (U-Shaped)
This LED T8 Direct Replacement has great light output and perfect for replacement of T8 u-shaped fluorescent tubes. This linear tube provides 2200 lumens and has a CRI of 82 and saves over 50% in energy costs when replacing with older fluorescent lighting. This lamp is engineered for high lumen maintenance over its 50,000 hour rated life. Simply "plug and play" on electronic fluorescent ballasts. Compatible with instant start, rapid start and program start ballast. Also compatible with emergency back-up ballasts. Our TLED tube lights are UL-listed and meet DLC standards for quality.
These TLED tube lights:
Measure 4 foot in length
Deliver 2100 lumens
Are equivalent to 32W fluorescent tube lights
Are available as 3500K, 4000K or 5000K (cool white) light
Are compatible with instant-start electronic ballasts
Constructed of f

rosted plastic lens

Last

50,000 hours
Product Warranty: 5 years
Model #
Watts
Type
Lumens
Color Temp
/CRI
Beam
Angle
Spec
Sheet
LT8U15840
15
Type A

2100
140 lm/w

4000K/>80
300°

Contact Us

LT8U15850
15
Type A

2100
140 lm/w

5000K/>80
300°

Contact Us
---
Are you a contractor looking for commercial lighting for your program?
---
How's color temperature measured?
Color temperature is expressed in kelvin (using the abbreviation "K"), a unit of measure for absolute temperature. When the color temperature is over 5000K, it's referred to as "cool-colored" (bluish-white). Lower color temperatures (2700–3000K) are called "warm-colored" (yellowish-white through red).
These lamps are available in 3500K, 4000K and 5000K.

What's a lumen?
A light's brightness is measured in lumens (abbreviated as "lm"). If a light bulb is super bright, it produces a lot of lumens. Because LED lighting delivers more lumens per watt of electricity, LEDs are a more efficient light source than incandescent bulbs. Commercial lighting fixtures are rated in lumens per watt (lm/w). These TLEDs have the best efficiency, 140 lm/w.
Lifetime hours
This bulb is about 56 percent more efficient than an standard 30,000 hour fluorescent bulb.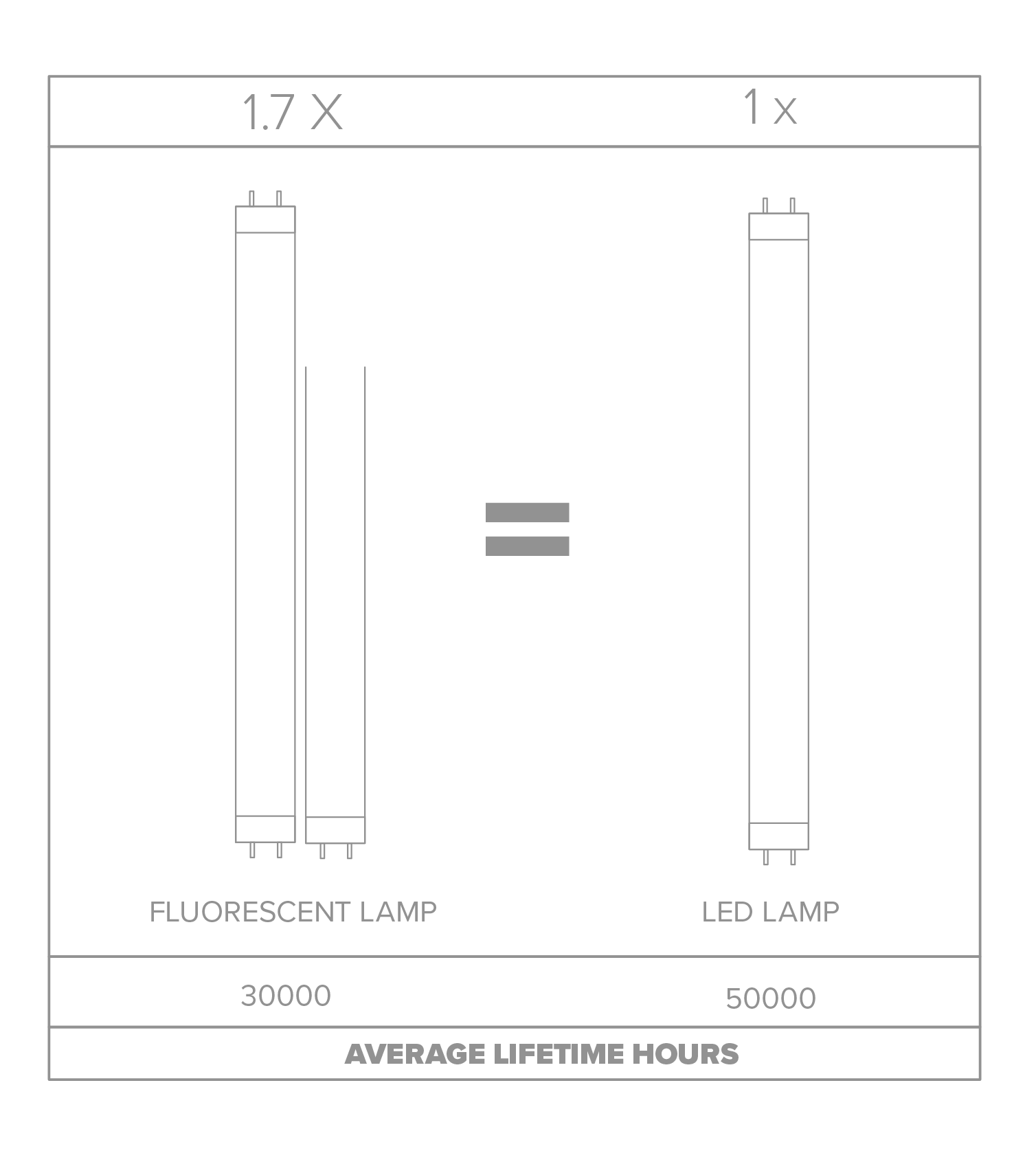 SKU:

LT8U15835, LT8U15840, LT8U15850

Warranty Information:

AM Conservation Group, Inc. guarantees to the original purchaser or recipient of this lamp that it is free from defects in material and workmanship for five years from the date of purchase. Warranty is limited to repair or replacement of the lamp. Lamps being returned must included proof of purchase.

Case Quantity

25
There are no reviews for this product yet.