Simply Conserve
LED T8 Direct Replacement

These LED T8 Direct Replacements are a perfect plug-and-play solution to convert existing fluorescent fixtures to LED. Designed to deliver 1700 -1900 lumens, these lamps deliver the same light output as a 32W fluorescent with less than half the power. The durable construction provides a strong, quick and safe installation without any rewiring of the ballast or fixture. Compatible with most electronic instant-start and programmed rapid-start T8 ballasts. Our TLED tube lights are UL-listed and meet DLC standards for quality.
These TLED tube lights:
Measure 4 feet in length
Deliver 1700-1900 lumens
Provide flicker free performance
Are available in 4000K or 5000K (cool white) light
Are compatible with instant-start electronic ballasts. To view compatible ballasts download the spec sheets in the table below.

Last

50,000 hours
Product Warranty: 5 years
---
Are you a contractor looking for commercial lighting for your program?
---
How's color temperature measured?
Color temperature is expressed in kelvin (using the abbreviation "K"), a unit of measure for absolute temperature. When the color temperature is over 5000K, it's referred to as "cool-colored" (bluish-white). Lower color temperatures (2700–3000K) are called "warm-colored" (yellowish-white through red).
These lamps are available in 4000K and 5000K.

What's a lumen?
A light's brightness is measured in lumens (abbreviated as "lm"). If a light bulb is super bright, it produces a lot of lumens. Because LED lighting delivers more lumens per watt of electricity, LEDs are a more efficient light source than incandescent bulbs. Commercial lighting fixtures are rated in lumens per watt (lm/w). These TLEDs have the best efficiency, 120-136 lm/w.
Lifetime hours
This bulb is about 56 percent more efficient than an standard 30,000 hour fluorescent bulb.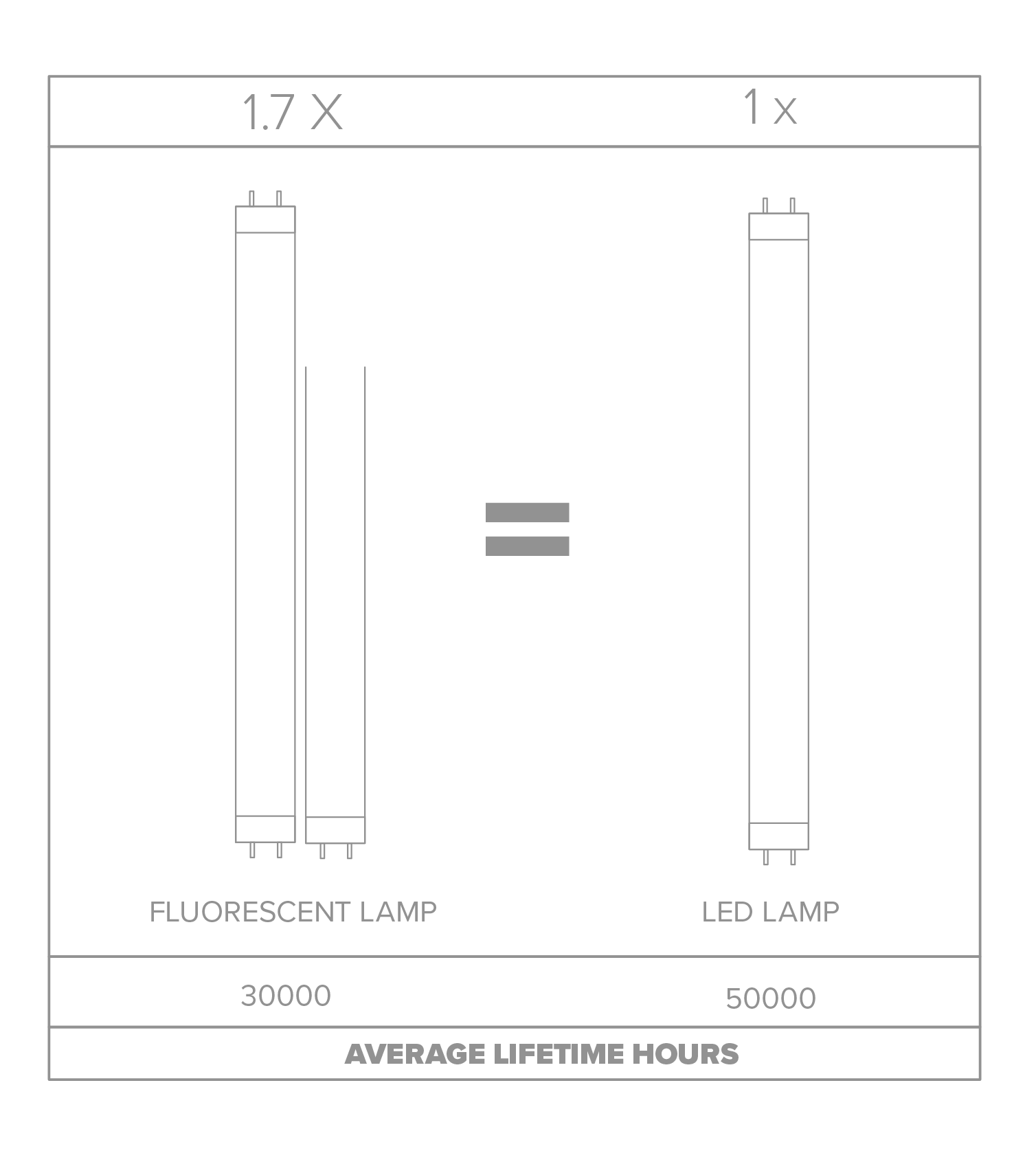 ---
SKU:

L12T8G35A, L12T8G40A, L12T8G50A, L14T8N35A, L14T8N40A, L14T8N50A, L14T8PC35A, L14T8PC40A, L14T8PC50A, L15T8G40A, L15T8G50A

Case Quantity

25
There are no reviews for this product yet.